President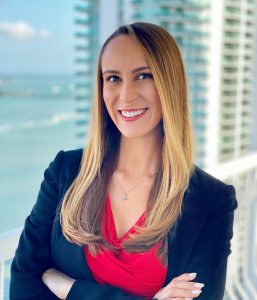 Kelly Malloy
"Hi, Miami Law! I'm Kelly and I serve as your SBA President. Throughout my time in SBA as an overall 1L Senator, Secretary, Inter-Club Council President, and now SBA President, I've worked closely with the administration and our student leaders, coordinated a variety of events, and sponsored successful bills.
As President, I am working towards a smooth, safe transition back to on-campus learning, developing new (and improving existing) campus resources, and focusing on improving bar scores and the bar prep experience. I am also the University of Miami Board of Trustees Student Affairs Committee Representative and serve as a voting member of LAFAC and the Law Alumni Association (LAA) Board of Directors.
As Secretary, I wrote the Hearsay and global emails, helped manage the e-board and Senate, oversaw the Halloween Instagram contest, and served on the Dean of Students' summer 2020 COVID Continuity Committee during the transition to blended learning. I also hosted the Office of Multicultural Student Affairs, the HOPE Office, and the Assistant Director of Digital Strategy in ICC meetings. In addition, as an overall 1L Senator I sponsored bills for a free headshot event and for free high-quality menstrual products. I also created the Barrister's Ball menu and Bricks banner to promote our most successful Ball to date. Further, as a Senator I devised and led a communications revamp within SBA and ran all social media during the spring of 2020.
Outside of SBA, I am on the University of Miami Law Review and a member of the Society of Bar & Gavel. I also served as the President of the Intellectual Property Law Society during my 2L year, and work as a patent engineer and law clerk for a boutique IP firm near Brickell. In undergrad at the University of Florida, I majored in Industrial & Systems Engineering and spent time studying in Berlin, Germany."
---
Vice President

Elanny Lago
"Hi Canes! My name is Elanny Lago and I am your 2021-2022 SBA Vice President!
As a first-generation student, I know the importance of having academic guidance, inclusivity, and access to university resources—which is why these are my priorities for the year ahead.
Furthermore, over the years I have worked with our 2L and 3L students through organizations like the Cuban American Bar Association (where I served as Vice President), Phi Alpha Delta (where I served as the Outreach and Communications Chair), Moot Court (where I won "Best Oralist" in the Gaubatz competition and am a member of the board), and Trial Team (where I compete several times throughout the year, representing our school). I am also a proud 1L UPLIFT Community Leader, PinPal mentor in the Public Interest Network, and student Ambassador welcoming new Canes to our campus.
I am committed to our Miami Law community and, alongside my team, ready to make it a safe and memorable year as we hopefully transition into some version of on-campus learning."
---
Secretary

Anoosheh Shaikh
"Hey everyone! I'm Anoosheh and I am the 2021-2022 Secretary of the Student Bar Association. I look forward to working closely with the executive board and administration on providing you all with up-to-date information about all school sponsored and affiliated events. 
Additionally, I serve as President of the Inter-Club Council and assist as a liaison between student organizations, leaders, and administration.
Outside of SBA, I am involved with the Moot Court Executive Board and the International and Comparative Law Review. I have also been involved with the Tenants' Rights Clinic, SWANALSA's Executive Board, and UPLIFT."
Anoosheh also served as the Chair of the Barrister's Ball Committee, and sponsored the Welcome Gift Bill which provided free water tumblers to incoming students.
---
Treasurer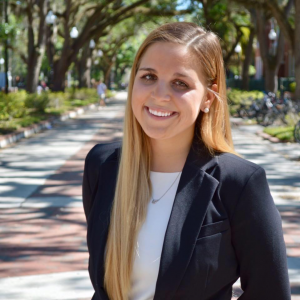 Lizzy Castano
"Hello! My name is Lizzy Castano and I am so excited to be elected SBA Treasurer. This past year, I served as an overall 1L Senator, organizing and designing the free UM Law x SBA Sweatshirt and the free Healthy Snack Days. I served as Chair of the Campus Life Committee and as Law Alumni Association ambassador. At the University of Florida, I double majored in economics and political science while serving as Treasurer for a Panhellenic organization overseeing a $2M+ budget.
Currently, I am Co-President of the Business Law Society and a member of the Society of Bar & Gavel.
As Treasurer, I am working on networking events, obtaining a 73% Quimbee discount, installing no-touch dispenser machines and bins in restrooms, and fundraising for scholarships. Additionally, I am a voting member of LAFAC. I am excited to utilize my skills and experience in conjunction with an exceptional executive team to ensure the SBA propels UM Law students to success."
---
Historian

Blanca Alcaraz-Serrano
"Hi Everyone! My name is Blanca Alcaraz and I am the SBA Historian for the 2021-2022 academic year.
I am a first-generation college graduate and now law student and I am striving for greatness, not just for myself but for those who come after me as well. I know how detrimental guidance, financial aid and mentorship is for students like myself and thus I have made these a priority in my work. I am the founder of @latinalawstudent, a page through which I share my personal journey as well as academic and scholarship advice.
I have also served as a 1L senator in SBA where I sponsored the Sweat-Shirt bill, the healthy snack bill, the workout bill and the student Spot light bill.  Outside of SBA I am a member of the Hispanic Law Student Association (HLSA), the First-Generation Law Association and the Christian Legal Society. I am also a Practice Pro Diversity Scholar for the class of 2023.
As your historian my main priority is to keep the student body informed and create a better point of communication between the students and the different organizations."
Blanca will serve as SBA's ex officio representative to the University Faculty Senate for 2021-2022. She is also working on a free headshot event for this April, thanks to a grant from the Florida Bar Young Lawyer's Division.
---
ABA Representative

Harrell Watts II
"Hi my fellow Canes! I am Harrell Watts and I am proud to serve as your ABA Representative for the 2021-2022 School Year!
Growing up, my parents taught me the importance of hard work and perseverance. Daily, I implement each of these principles and I will bring each of them to the role as ABA Representative. As a first-generation law student, I am fully aware of the information gap that many students face throughout law school. My goal is to help close that gap through providing useful resources from the ABA to increase awareness, productivity, and efficiency for all our students here at UM Law.
On campus, I am heavily involved as a member of the Charles C. Papy Jr. Moot Court Board, Trial Team, and the Black Law Students Association.   This year, I am elated to have the opportunity to help improve the Miami Law Community alongside a remarkable group of colleagues!"
---